From 45p Psychic Call 0904 007 0996
Cheapest Love and Relationship Readings
(Call cost 45p per minute plus network access charges apply)
The Cheapest 45p Experienced Love and Relationship Readings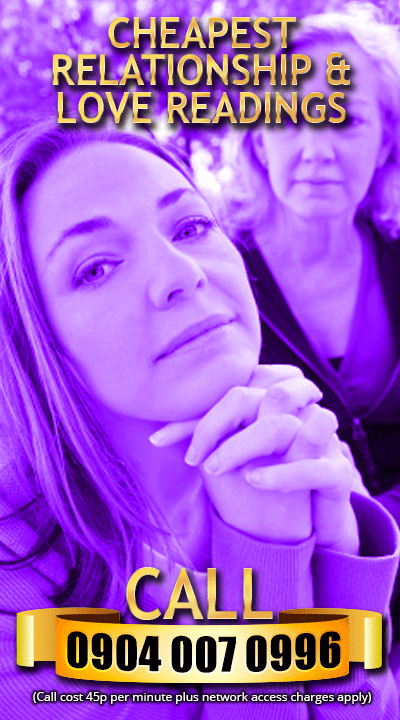 Welcome to our love and relationship readings team of psychics, mediums, tarot readers, clairvoyants and spiritual healers who specialise in love and relationship readings. Our team are able to guide you through and give you invaluable advice for whatever your questions or difficulties are. 'Have I met the person of my dreams?', this question is the most important that we face in our lifetimes, deciding to settle down or call it a day. If the answer is yes then you can build your life and make it as rich and fulfilled as you possibly can. But if the answer is no, and you do not find out as soon as possible, you could spend years of your life enduring a miserable existence, in turn making you feel worthless, less confident and unhappy. The right choice in life is always the hardest choice that we face, putting off that decision will only lead to future misery. 'Will my ex-partner want me back?', a questions many of us have often thought about, but think again, would you buy your old car back? Your relationship has come to an end and you need love and relationship readings advice of what to do next and how to rebuild your life. This is possibly the hardest time of your life, but as everything seems so bleak right now, it will get better with time. With the right love and relationship readings and guidance, you will find your soul mate and become more happy than you ever thought possible and looking back on your old relationship, you'll think how did you ever think you were happy. ' I'm lonely and unhappy, will I ever find someone to love me for me?' – Yes is the answer, it's just a case of finding that person. Making a few little changes to yourself such as staying optimistic in the darkest of days, you will find that person in the unlikeliest of places. You just need to be aware of your surroundings at all times and take the chances that come your way, don't dither or second guess yourself and grab the bull by the horns every time. You only live once so call for love and relationship readings to assist you in your future.
When it comes to friends and family, most of us are lucky enough to be blessed with either or both that are around us to help us cope with all the little problems that arise in life. Sometimes those knock backs we endure are caused by family and friends and this is simply the ones you love most are in a position to hurt you the most. With the right guidance and advice with love and relationship readings, you can resolve your differences quickly before things get out of hand. Having a view from the outside can give you the clear reasons behind any issues, giving you a deep insight to the underlying human emotion that has caused the fallout and bad feelings. Friends and family are the most important people in our lives and sometimes distance in terms of travelling can lead to our bonds being strained and wires crossed. But true family and friends will always come around, because true unconditional love is a bond which can never be broken no matter what the problem. So let us help you re-conciliate your differences or assist you to make your bond even stronger with a loved one. Life is simply too short and we're all guilty of losing sight of what's really important, sometimes you just need a nudge in the right direction from someone who has the knowledge, gifts and experience to do so. Our incredibly trained and dedicated psychics, mediums, clairvoyants and tarot readers are on hand 24-7 to give you and share with you the knowledge and in-depth clarity that will assist you overcome any boundaries between family or friends which may have built up. No issue is too great or too small to fix and we all deserve happiness.
45p Love and Relationship Readings
Call Now 0904 007 0996
(Call cost 45p per minute plus network access charges apply)
Or Text 'JOY' to 67111 – receive empowering text readings within minutes of your questions
(This Service is provided by LiveLines UK Ltd SMS cost £1.50 each to receive + standard network charges, maximum 1 text message per reply. Picture messages cost £3 per picture, you will only receive a picture message if you request one. Mobile users may receive free promotional messages, call 0333 200 2321 to opt out of these. Call cost 45p per minute + your phone company's access charge. Helpline: 0333 200 2321. All users must be aged over 18+ and have the bill payers permission. PO6538 NN2 7YN. Payments@livelinesuk.com.)
Live Clairvoyants & Psychics Online Now
Below is a selection of 20 Psychics, Mediums and Tarot Card Readers out of the hundreds we have online right now. To keep up to date with who's available at this precise moment, Click here to refresh the page.