From 45p Psychic Call 0904 007 0996
Cheapest Psychic Dream Interpretation
(Call cost 45p per minute plus network access charges apply)
The Cheapest 45p Experienced Psychic Dream Interpretation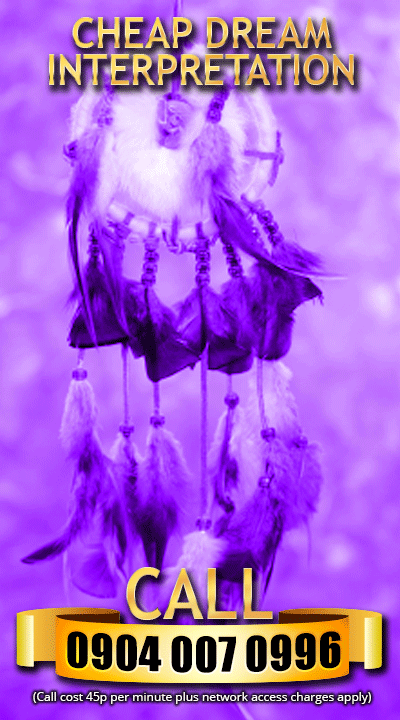 Welcome to the UK's cheapest online Psychic Dream Interpretation service with experienced psychics who have studied the art of interpreting dreams and the meanings and motivations behind them for years. Your subconscious mind or to refer to it as its scientific and proper term, the unconscious mind, is an extremely powerful tool that is not always fully utilised in day to day activities and this has no inhibited rules or regulations when relating to right or wrong. Hence why sometimes you can experience such vivid severe dreams, such as seeing yourself engaged in acts which in day to day life would never ever enter your mind. These unconscious dreams are your minds way of telling you, something has been left not dealt with or has been avoided or suppressed in the day world of reality. The rigours and rituals of everyday life occupy the majority of our time so when you have a pressing matter or problem which you would rather not deal with, or just avoid completely, just because you've temporarily forgotten it, this problem hasn't gone away and will linger until resolved. So when in dream state, the unresolved matter or problems appears as an unconscious message trying to push through to the forefront of your mind in order to remind you of the ignored issue. This is also where reoccurring dreams come into play, where a problem has been ignored for a long time. One third of our lives are spent in a dream state and this is when our brains emit the most powerful signals as you are totally relaxed and you're brain can solely focus and process your entire life, with no distractions of normal life.
Our amazing psychic dream interpretation team will unravel your unconscious coded messages and get straight to problem so you can achieve a happier and enriched mental well being. Most of the time, the information salvaged from your dreams can lead to be a powerful source of knowledge, sometimes life changing, unlocking your buried issues from your mind. In most cases, dreams will be most vivid when the suppressed problem has been ignored for years and in a day state, you have no knowledge of this problem any more. It could be choices of life such as your love life, missed opportunities, your home, your work life, anything that could have been important enough for your unconscious mind to not forget. But it is not too late to change your life for the better. So with the right guidance from our clear in-depth psychic team of dream interpreters, you will be able to pinpoint the problem, address it, leaving you feeling re-energised. Ultimately, the advice our psychic dream interpretation team will provide from analysing your dreams will give you the guidance to move forward in life and assist you to make the right decisions to fulfil your destiny to achieve true happiness. Become empowered now so you can tackle your problems with confidence with a breathtaking psychic dream interpretation today.
Cheap 45p Psychic Dream Interpretation
Call Now 0904 007 0996
(Call cost 45p per minute plus network access charges apply)
Or Text 'JOY' to 67111 – receive empowering text readings within minutes of your questions
(This Service is provided by LiveLines UK Ltd SMS cost £1.50 each to receive + standard network charges, maximum 1 text message per reply. Picture messages cost £3 per picture, you will only receive a picture message if you request one. Mobile users may receive free promotional messages, call 0333 200 2321 to opt out of these. Call cost 45p per minute + your phone company's access charge. Helpline: 0333 200 2321. All users must be aged over 18+ and have the bill payers permission. PO6538 NN2 7YN. Payments@livelinesuk.com.)
Live Clairvoyants & Psychics Online Now
Below is a selection of 20 Psychics, Mediums and Tarot Card Readers out of the hundreds we have online right now. To keep up to date with who's available at this precise moment, Click here to refresh the page.